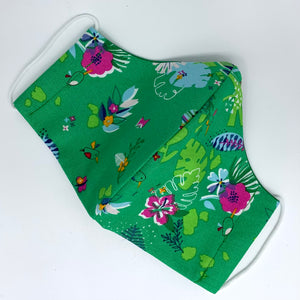 All Dunn Up
Tropicana face mask
Sale price Price $13.00 Regular price $0.00
Triple layered face mask, with a fun emerald green tropical print design.
The All Dunn Up mask are created with 3 layers of fabric for extra protection (recommended by the World Health Organisation) and top quality cotton. 

A lovely bold print.
Help save the environment with these reusable/washable masks.
A 3mm soft elastic cord has been used to aid comfort around the ears.

Please note that our reusable face masks are NOT medical masks and they have no medical filters. We make no medical claims with regards to their usage.
Due to the handmade nature of this item, the positioning of the pattern may vary from that photographed.
No returns/exchanges